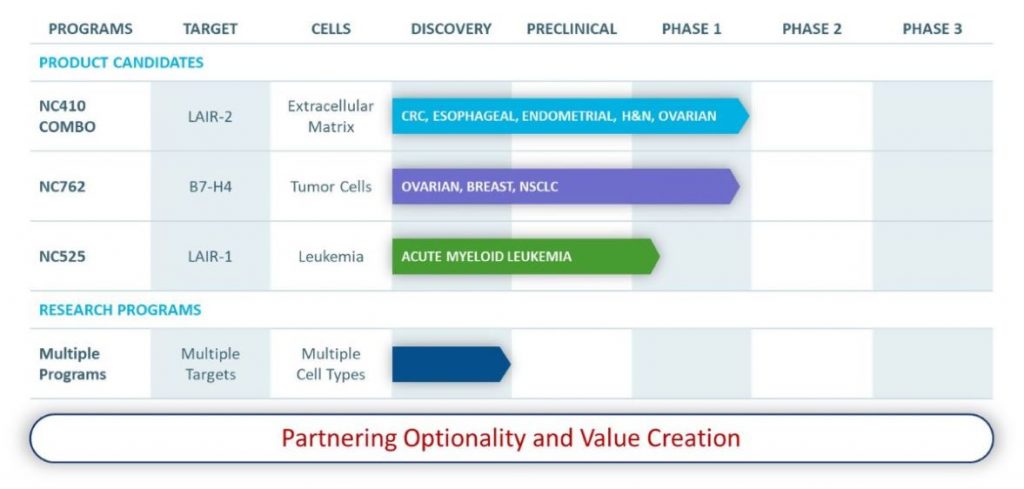 NC410 is a first-in-class immunomedicine designed to block immune suppression mediated by LAIR-1, an immunomodulatory receptor expressed on T cells and myeloid cells, including dendritic cells, a type of antigen presenting cell. In non-clinical models and early-stage monotherapy clinical studies, we have demonstrated that NC410 can remodel collagen in the extracellular matrix (ECM), the tissue matrix surrounding the tumor, which enhances T cell infiltration into the tumor. Elevated collagen levels in the ECM are associated with resistance to PD-1 and PD-L1 therapies. Our translational work has shown that NC410 blocks the interaction of LAIR-1 with its binding partners, thereby promoting T cell function and dendritic cell activity to contribute to restoring anti-tumor immune activity. Consistent with our strategy, we believe NC410 has the potential to address the needs of patients who are not adequately addressed by currently available therapies.
NC762 is a monoclonal antibody that binds specifically to B7-H4, a protein expressed on multiple tumor types. We believe NC762 has unique anti-tumor properties and acts by inhibiting tumor cell growth and killing tumor cells, including by enhancing the immune response. We have observed in preclinical studies that NC762 inhibits the growth of human melanoma tumors in mice, and we believe that NC762 has the potential to treat multiple tumor types. Our research indicates that NC762 inhibits tumor cell growth independently of immune cell infiltration in the TME, but that NK cells may contribute to enhanced anti-tumor activity mediated by NC762.
NC525, is such a monoclonal antibody and specifically binds to LAIR-1 to functionally kill AML blast cells and leukemic stem cells while preserving normal blood cells, including hematopoietic stem cells.
NextCure Expanded Access Policy can be viewed here